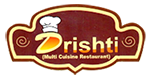 ADDING A JOY OF BEST TASTE
Drishti Restaurant can be a great choice to fulfill your hunger cravings! You can find a wide range of Delicious Cuisine in Drishti Restaurant. Various type of food from various regions of world including Chinese, Indian, South Indian, Bengali etc will makes your memory golden.
Drishti Restaurant is known for its efficiency at serving delectable dishes. Every dish it serves is full of spices and realflavors and are specifically chosen by the chefs. An economical menu also offers a breakfast section on the menu and is full of options that you cannot afford to miss. Drishti is located at Hotel Sudesh Tower, Desapriya Park, South Kolkata and the nearest landmark is Sudesh Banquets.
TIME - 7.30 A.M. to 11.00 P.M.
CUISINES
Breakfast
North Indian
South Indian
Chinese
Snacks
Schezwan
Dessert